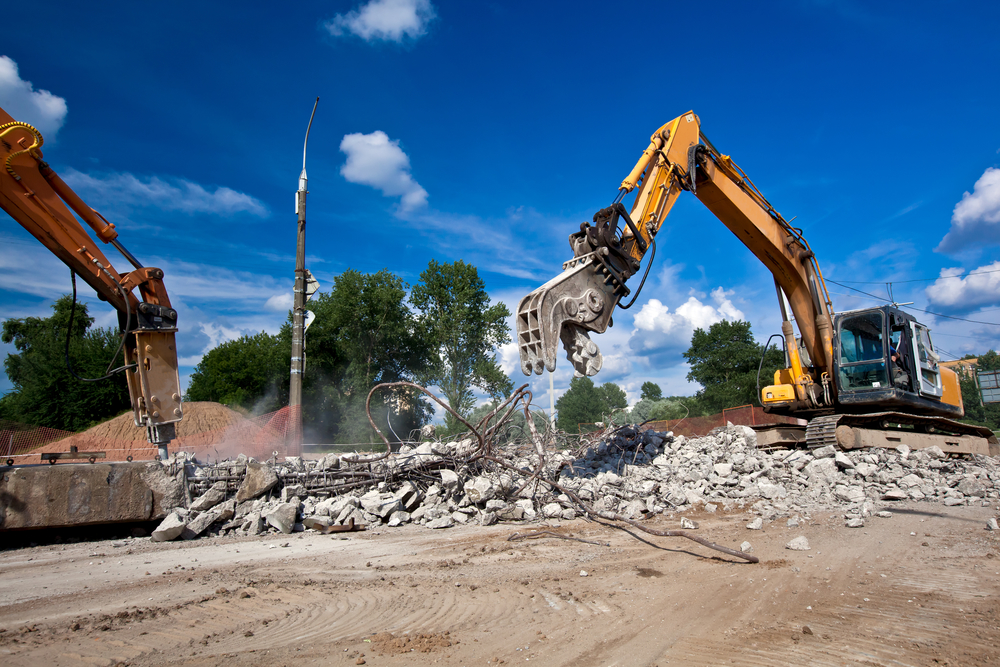 Los Angeles Demolition Services
When customers need the most professional demolition services Los Angeles, CA has to offer, they turn to Nielsen Environmental. Our company has been operating as a licensed demolition and abatement contractor for almost twenty years. Our crew has more than four decades of combined experience providing demolition services Los Angeles CA community members rely on.
Whether we are demolishing an interior of a building or an entire structure, we know that our crew is an integral part of the construction process. It is our ambition to treat your property with the utmost respect and on request will salvage reusable materials.
All at times, Nielsen Environmental employees follow and enforce the highest standards of safety. For example, gas pipes, hydro lines, wiring, and materials containing asbestos are all potential hazards. Prior to carrying out any demolition work, we will assess the structure for these items and create a plan of action to prevent any accidents from occurring. Due to the unique dangers of this kind of work, it is advisable to choose trained, insured demolition services in Los Angeles, CA.
Our Portfolio
We are proud to have a portfolio of diverse demolition projects that include foundation removals, selective interior demolition, manufacturing plants, structural implosions, and more. Our history is vast and complemented by an impeccable safety record. Our demolition company also provides remediation and abatement services, and any ancillary support services needed by our clients. To learn more about our demolition services Los Angeles, CA companies and individuals have utilized, call Nielsen Environmental now. 
What We Specialize In
Although we are well known for our comprehensive services, we excel in demolition and have completed hundreds of projects. These come in all sizes, shapes, forms, and with their own set of challenges that our skilled project managers and team can handle with confidence. 
Some of our demolition projects have included:
Building strip outs

Interior demolition

High rise demolition

Heavy below grade foundations

Plant demolitions

Manufacturing demolitions

Remote demolitions

Tower demolitions

Controlled implosions

Excavation

Site clearing

Decommissioning
We Aim to Be Green
We care about the planet and do our best to utilize green demolition services in Los Angeles, CA which have the least environmental impact. To do this, we implement procedures that have been carefully planned by our team and designed to reclaim and reuse any possible materials for future construction projects. 
The waste materials that are generated through our demolitions, such as steel, copper, and other metals, are taken to a plant where they are recycled. Concrete, when possible, is crushed and reused for new construction projects. If there are any trees, shrubs, or moveable plants we may compost them, take them to a cogeneration plant, or in some cases, replant them in a new location. If there are bricks on the site, we will try to shave, stack, and palletize them for sale and reuse. 
Disaster Demolition Services
In Los Angeles disaster can strike at any time. When this happens, there are often buildings that are so unstable that they could collapse at any time. A rapid response demolition company should be called immediately. If there has been a disaster we will send our team and equipment at a moment's notice. Our history of handling disaster demolition services in Los Angeles includes unforeseeable natural disasters, wildfire demolitions, earthquake demolitions, hazardous spills, and more. 
Our Demolition Services Los Angeles CA
Nielsen Environmental offers a broad range of demolition services. To gain a better understanding of how our team can help you, we encourage you to call Nielsen Environmental today.
Industrial/commercial demolition
Full or partial demolition and site remediation
Selective interior demolition and dismantling
Environmental assessment and reporting
Hazardous waste/materials removal
Do You Require a Demolition?
If you are ready to demolish, or partially demolish a house or building, turn to the professionals at Nielsen Environmental We are ready to help you complete this project in a timely manner and as efficiently as possible. To learn more about our demolition services Los Angeles, California residents know and trust, call us today. 
Why Choose Nielsen Environmental?
We aim to provide full spectrum demolition services Los Angeles CA businesses and homeowners can trust for the effective dismantling and removal of materials and waste products. By working with us, you can expect:
A meticulous attention to detail
An experienced, trained, and respectful crew
Green demolition through the process of salvaging, recycling, or reusing Materials
Outstanding construction efforts while adhering to the highest levels of professionalism
Interior or Selective Demolition Services
Remodeling projects and renovations often require some sort of interior demolition. When searching for limited demolition services Los Angeles CA residents should look for companies such as ours that offer selective demolition.
This is a specialized job which typically involves the removal of components in the interior while leaving the exterior of the building intact. Interior demolition may also include the removal of asbestos or other hazardous materials, which is why you should evaluate the various demolition services Los Angeles CA offers and choose a company you feel confident about. Other elements of selective demolition that Los Angeles demolition services often perform include:
Removal of ceilings, walls, and utilities inside the structure;
Cutting openings in floors or walls for the installation of elevators, doors, windows, stairways, and utility services;
Removal of all flooring and/or carpeting when job specifications call for major remodeling;
Removal of sections of the building that have deteriorated or are beyond repair;
Removal of building sections which have been damaged by weather elements, earthquakes, or fires; and
Selective removal or demolition of parts of the structure in such a way that ensures other parts of the building will remain safe and standing.
Structural Demolition Services
When it is not possible or feasible to use an existing building, structural demolition may be an ideal solution. Depending on the circumstances, this process may involve specialty machines, explosives, area closures, dismantling of debris, soil remediation, and so forth. For these reasons, you need to entrust this job to a professional, experienced company like Nielsen Environmental.
Deconstruction
It is critical for owners of demolition services Los Angeles CA provides to remain informed and educated about new technology and processes that can improve demolition procedures. One such process is deconstruction. The goal of this type of demolition is to reduce the amount of debris that ends up in landfills. Deconstruction also reduces the amount of carbon dioxide emissions released during the demolition phase. Not all companies that offer demolition services in Los Angeles CA provide this service, but Nielsen Environmental is committed to do everything we can to help protect the environment.
When done properly, deconstruction can result in more than a 90 percent reduction of material in landfills. Our demolition services Los Angeles CA clients depend on uses specialized equipment which separates the different types of waste materials during the demolition process. We also have crushers available as need that smash unwanted concrete chunks into a form of crushed aggregate. It can then be used as a base under the new building, as a piling mat, or in concrete mix. Timber that remove from the structure is shredded and recycled as compost or used in the construction of new timber boards.
Nielsen Environmental is also committed to reusing as much material as possible during a demolition project. There are many parts of a structure that contain valuable items which can be salvaged during demolition. A surprising number of buildings offer architectural features which can be salvaged and incorporated into the new building. These may include any or all of the following:
Equipment: Air conditioning systems, boilers, electrical equipment, motors, oil tanks, and pumps.
Materials: Brick, lumber, piling, and piping; and
Metals: Aluminum, brass, cast iron, copper, lead, and steel.
Nielsen Environmental Has the Right Tools
When you hire a demolition service, you assume that they have all the tools and equipment to do the job right. But many companies do not actually own the equipment they use, and instead they rent it. If the necessary equipment isn't readily available, or is not properly maintained, this can cause all manner of delays. Nielsen Environmental has all the equipment needed to get the job done correctly and stay on schedule.
Contacting Nielsen Environmental
Nielsen Environmental is considered to be a leading demolition company in Los Angeles. For years, we have been specializing in commercial, residential, and mechanical demolition projects throughout the greater L.A. area. Our team of demolition professionals understand the nature of this job and know that it has to be done right. We provide clients with safe, orderly, and cost-effective demolition services that are carried out in a timely manner. The work ethic of our team compliments our skill and quality and enables us to exceed the expectations of many of our clients, including contractors, project managers, developers, home owners, and more.
If you require a full or partial demolition, turn to a demolition company you can count on such as Nielsen Environmental. To explore our demolition services in Los Angeles, CA in further detail, call us today.
To speak with one of our advisors about our demolition services Los Angeles CA has to offer, please call 323-951-9722.
Client Review

"Kevin Nielsen is amazing!! I called him to remove an asbestos pipe in my attic and he was here and had the job done within 2 hours of my call. He is so professional, so nice, and did the job for a great price. I highly recommend him!!"
Lori Shelton