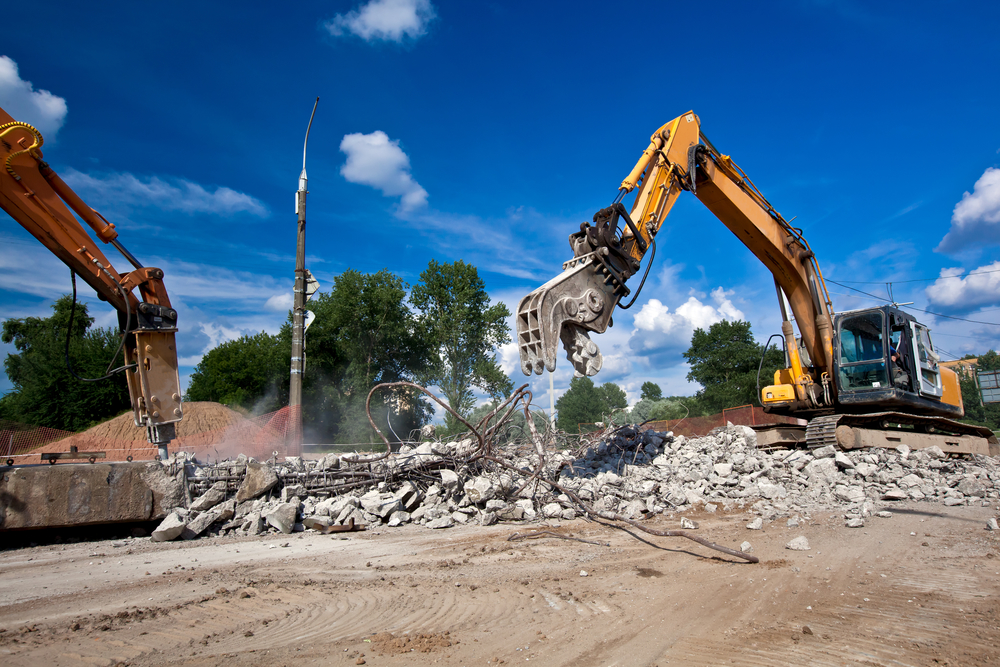 Los Angeles Demolition Services
When customers need the most professional demolition services Los Angeles, CA has to offer, they turn to Nielsen Environmental. Our company has been operating as a licensed demolition and abatement contractor for almost twenty years. Our crew has more than four decades of combined experience providing demolition services Los Angeles CA community members rely on.
Whether we are demolishing an interior of a building or an entire structure, we know that our crew is an integral part of the construction process. It is our ambition to treat your property with the utmost respect and on request will salvage reusable materials.
All at times, Nielsen Environmental employees follow and enforce the highest standards of safety. For example, gas pipes, hydro lines, wiring, and materials containing asbestos are all potential hazards. Prior to carrying out any demolition work, we will assess the structure for these items and create a plan of action to prevent any accidents from occurring. Due to the unique dangers of this kind of work, it is advisable to choose trained, insured demolition services in Los Angeles, CA.
Our Portfolio
We are proud to have a portfolio of diverse demolition projects that include foundation removals, selective interior demolition, manufacturing plants, structural implosions, and more. Our history is vast and complemented by an impeccable safety record. Our demolition company also provides remediation and abatement services, and any ancillary support services needed by our clients. To learn more about our demolition services Los Angeles, CA companies and individuals have utilized, call Nielsen Environmental now. 
What We Specialize In
Although we are well known for our comprehensive services, we excel in demolition and have completed hundreds of projects. These come in all sizes, shapes, forms, and with their own set of challenges that our skilled project managers and team can handle with confidence. 
Some of our demolition projects have included:
Building strip outs

Interior demolition

High rise demolition

Heavy below grade foundations

Plant demolitions

Manufacturing demolitions

Remote demolitions

Tower demolitions

Controlled implosions

Excavation

Site clearing

Decommissioning
We Aim to Be Green
We care about the planet and do our best to utilize green demolition services in Los Angeles, CA which have the least environmental impact. To do this, we implement procedures that have been carefully planned by our team and designed to reclaim and reuse any possible materials for future construction projects. 
The waste materials that are generated through our demolitions, such as steel, copper, and other metals, are taken to a plant where they are recycled. Concrete, when possible, is crushed and reused for new construction projects. If there are any trees, shrubs, or moveable plants we may compost them, take them to a cogeneration plant, or in some cases, replant them in a new location. If there are bricks on the site, we will try to shave, stack, and palletize them for sale and reuse. 
Disaster Demolition Services
In Los Angeles disaster can strike at any time. When this happens, there are often buildings that are so unstable that they could collapse at any time. A rapid response demolition company should be called immediately. If there has been a disaster we will send our team and equipment at a moment's notice. Our history of handling disaster demolition services in Los Angeles includes unforeseeable natural disasters, wildfire demolitions, earthquake demolitions, hazardous spills, and more. 
Your Foundation is Faulty Beyond Desirable Repair
If you walls have cracks running along them or all your doorways are off-kilter, you might have foundation problems. These repairs can be tens of thousands of dollars and in many cases, are not worth it. (This doesn't apply to old New England farmhouses or other historically significant architecture, which are worth preserving). Sometimes it's best to demolish the home and start over.
There is Extensive Mold
If your home has been flooded or a roof leak has gone unattended for years, you may have extensive mold throughout the walls and ceilings of your home. In some cases mold remediation services are helpful, but if the mold is throughout the entire home or of a particularly toxic variety, it's time to demolish.
Renovations Will Cost More Than a New Home
Sometimes, a house has more things wrong with it than right. When a home has numerous repairs, the costs can be exorbitant due to the complexity of the inter-related problems. So if your house needs a new foundation, new wiring, new plumbing, a new roof, and new insulation, you might as well call for demolition services in Los Angeles, CA.
Your Home is Functionally Obsolete
While it was common fifty years ago for a three-bedroom home to have one bathroom, today's tastes renders that concept unthinkable. One hundred years ago, nobody had a laundry room, whereas today's conveniences require it. Perhaps you have a 600-square-foot single family home on a lot that could accommodate a two-storey home. If your home needs extensive structural changes to meet current market demands, it might be time to reach out to Nielsen Environmental for your demolition services in Los Angeles, CA.
Your Property is Worth More as a Vacant Lot
While some older, delapidated buildings are significant for their historical or architectural value, some delapidated buildings are old but boring and cheaply manufactured. In the latter case, it might not be worth restoring your structure to its former glory, and would be better off being removed so a new structure can be built.
4 Advantages To Hiring a Demolition Service
When it comes to knowing the buildings, the code, the equipment, and having the experience to use it all, using professional help on the next big demo project might be a good idea. Whether it's taking down a house and hauling off the debris to the local landfill or setting charges in a five-story building, an experienced demolition service is probably going to be well worth their fee. Here are four advantages to hiring a reputable demolition company. 
1. Knowing the Equipment
Having knowledgeable and experienced operators is a crucial aspect of any demolition company. "Working smarter, not harder" is a rule amongst the industry these days. The safest worksite is one with educated workers who know their equipment in and out. Downtime for demolition services in Los Angeles CA, is typically low or none. Operators such as the ones from Nielsen Environmental have passed a safety course and know how to solve problems and be resourceful.
2. Knowing the Structures
Most demolition services in Los Angeles CA, require a specialist who can identify and understand building structures. Without a doubt, education and experience are key aspects of this job since so many different types of designs come about. Sometimes a demolition company will hire architects to consult with.
3. Knowing the Customer
A demolition company such as Nielsen Environmental has spent many years learning from its customers. Sometimes just having direct communication with a project manager or being able to call and ask questions about a particular thing is the sort of real-time attention to customer queries that help make them stand apart from their competitors. Technology is available to make the communication link between customers and demolition services in Los Angeles CA, very simple and intuitive.
4. Knowing the Local Codes
The local law regarding building codes can play a key role in the project at hand. Imagine putting out time and manpower only to find out the schedule is scrapped due to improper permits or ignorance of the local codes. A company that specializes in demolition services in Los Angeles CA, might have some experience with local codes and is likely to learn the new ones every year. Each state will enforce different rules, and the set of regulations they do implement are liable to change. It is difficult for the customer to try and understand all of the different laws, so outsourcing that headache makes sense.
4 Advantages To Hiring a Demolition Service infographic
Our Demolition Services Los Angeles CA
Nielsen Environmental offers a broad range of demolition services. To gain a better understanding of how our team can help you, we encourage you to call Nielsen Environmental today.
House demolition
Building demolition
Industrial/commercial demolition
Full or partial demolition and site remediation
Selective interior demolition and dismantling
Environmental assessment and reporting
Hazardous waste/materials removal
Do You Require a Demolition?
If you are ready to demolish, or partially demolish a house or building, turn to the professionals at Nielsen Environmental We are ready to help you complete this project in a timely manner and as efficiently as possible. To learn more about our demolition services Los Angeles, California residents know and trust, call us today. 
Why Choose Nielsen Environmental?
We aim to provide full spectrum demolition services Los Angeles CA businesses and homeowners can trust for the effective dismantling and removal of materials and waste products. By working with us, you can expect:
A meticulous attention to detail
An experienced, trained, and respectful crew
Green demolition through the process of salvaging, recycling, or reusing Materials
Outstanding construction efforts while adhering to the highest levels of professionalism
Interior or Selective Demolition Services
Remodeling projects and renovations often require some sort of interior demolition. When searching for limited demolition services Los Angeles CA residents should look for companies such as ours that offer selective demolition.
This is a specialized job which typically involves the removal of components in the interior while leaving the exterior of the building intact. Interior demolition may also include the removal of asbestos or other hazardous materials, which is why you should evaluate the various demolition services Los Angeles CA offers and choose a company you feel confident about. Other elements of selective demolition that Los Angeles demolition services often perform include:
Removal of ceilings, walls, and utilities inside the structure;
Cutting openings in floors or walls for the installation of elevators, doors, windows, stairways, and utility services;
Removal of all flooring and/or carpeting when job specifications call for major remodeling;
Removal of sections of the building that have deteriorated or are beyond repair;
Removal of building sections which have been damaged by weather elements, earthquakes, or fires; and
Selective removal or demolition of parts of the structure in such a way that ensures other parts of the building will remain safe and standing.
Structural Demolition Services
When it is not possible or feasible to use an existing building, structural demolition may be an ideal solution. Depending on the circumstances, this process may involve specialty machines, explosives, area closures, dismantling of debris, soil remediation, and so forth. For these reasons, you need to entrust this job to a professional, experienced company like Nielsen Environmental.
Deconstruction
It is critical for owners of demolition services Los Angeles CA provides to remain informed and educated about new technology and processes that can improve demolition procedures. One such process is deconstruction. The goal of this type of demolition is to reduce the amount of debris that ends up in landfills. Deconstruction also reduces the amount of carbon dioxide emissions released during the demolition phase. Not all companies that offer demolition services in Los Angeles CA provide this service, but Nielsen Environmental is committed to do everything we can to help protect the environment.
When done properly, deconstruction can result in more than a 90 percent reduction of material in landfills. Our demolition services Los Angeles CA clients depend on uses specialized equipment which separates the different types of waste materials during the demolition process. We also have crushers available as need that smash unwanted concrete chunks into a form of crushed aggregate. It can then be used as a base under the new building, as a piling mat, or in concrete mix. Timber that remove from the structure is shredded and recycled as compost or used in the construction of new timber boards.
Nielsen Environmental is also committed to reusing as much material as possible during a demolition project. There are many parts of a structure that contain valuable items which can be salvaged during demolition. A surprising number of buildings offer architectural features which can be salvaged and incorporated into the new building. These may include any or all of the following:
Equipment: Air conditioning systems, boilers, electrical equipment, motors, oil tanks, and pumps.
Materials: Brick, lumber, piling, and piping; and
Metals: Aluminum, brass, cast iron, copper, lead, and steel.
Nielsen Environmental Has the Right Tools
When you hire a demolition service, you assume that they have all the tools and equipment to do the job right. But many companies do not actually own the equipment they use, and instead they rent it. If the necessary equipment isn't readily available, or is not properly maintained, this can cause all manner of delays. Nielsen Environmental has all the equipment needed to get the job done correctly and stay on schedule.
How To Plan A Structural Demo in California
Having a structure built takes time, planning, and attention to detail. Many people do not realize that taking down a structure takes these three things as well. There is much more involved in structural demolition than simply knocking down a building. This is why demolition services in Los Angeles, CA exist. At Nielsen Environmental we can help business and homeowners plan and execute a safe and legal demolition project. Keep reading to learn how to plan a structure demo in California.
Create A Timeline
It is very important that you plan your demo project carefully. The timing of a demo is important. The time of year and the weather conditions can have a huge impact on the success of your project. You will also need to make sure that the timing of the demo works well with your family's schedule of moving out of a residential home, or with your business schedule if you will be planning the demo of a business structure. Once you have created a timeline you can start to line up the professionals you will need to assist you.
Inspect for Hazardous Materials
Before a demo can start, the structure must be inspected for hazardous materials. These materials can include asbestos, black mold, lead, and other materials. The health of your family, the demo team, and your community is at stake if there are hazardous materials on the property. Demolition services in Los Angeles, CA are trained to safely remove these types of materials.
Get Estimates 
In order to get the best deal, you will want to get estimates from a few different demolition services in Los Angeles, CA. You will be able to use these estimates to compare prices for your project. You should, however, keep in mind, that choosing the best company may include more than simply comparing prices. You will want to make sure you choose the company that will provide all of the services you are in need of.
Services you should look for will include:
Planning and engineering the demo

Obtaining permits

Asset recovery 

Material salvaging and disposal 

Hazardous material removal and disposal 
You will find that Nielsen Environmental provides all of these services, plus more.
Start Your Project
Once you have all of these tasks accomplished, it is time to demo. When you work with professional demolition services in Los Angeles, CA, you can rest assured that your project is being handled safely and quickly.
Demolition Services Los Angeles CA 
Unless you are a trained and certified professional, you should never touch or attempt to remove asbestos on your own. There are a variety of rules and regulations around the proper removal and disposal of asbestos and for good reason. This material has strong links to significant health risks. While you should not remove asbestos unless you are qualified to do so, how do you know when you should call in professional demolition services in Los Angeles, California?
Don't Touch if Undamaged
The general rule of thumb is that if the asbestos is undamaged, then you do not need to be concerned about it. The substance is only dangerous if it is exposed. However, if it is contained or covered over, then the risks are minimal. Therefore, if you know that your pipes are insulated with the material, but they have an undamaged cast, then you are safe to leave your pipes as they are. Whether you choose to leave it is up to you, but you are not required to remove it unless it is exposed and presenting a health risk to those around you.
Call a Professional Demolition Services in Los Angeles CA if Damaged
While asbestos is safe as long as it is contained and undisturbed, it should be removed quickly if it is ever exposed. Therefore, if you suspect you have an asbestos issue, you should call in a Los Angeles CA demolition services company as soon as possible. There are several areas in your home that may contain asbestos and should be checked for damage.
Insulation

Flooring

Ceiling tiles
Do Your Homework
Before hiring a professional demolition services company, you should make sure that they meet a few criteria. Always ensure that a removal company and any employees are trained, licensed and certified. Every state has regulations for the removal of asbestos, and most of those regulations require that individuals and businesses offering removal have a license. Also, make sure the company you hire is insured as this protects you and your property. Beyond ensuring licensure and expertise, you can review a company's references and reputation to make sure that they perform as expected.
Never attempt to remove asbestos if you are not adequately trained and licensed. As the substance is dangerous, it is essential that it is removed appropriately and disposed of correctly. While hearing the term asbestos may make any homeowner uneasy, as long as it is contained and undisturbed, the material does not pose any immediate threat. However, you can call an asbestos demolition services company to discuss your options further.
Contact the demolition services company Los Angeles CA homeowners trust from Nielsen Environmental today.
Contacting Nielsen Environmental
Nielsen Environmental is considered to be a leading demolition company in Los Angeles. For years, we have been specializing in commercial, residential, and mechanical demolition projects throughout the greater L.A. area. Our team of demolition professionals understand the nature of this job and know that it has to be done right. We provide clients with safe, orderly, and cost-effective demolition services that are carried out in a timely manner. The work ethic of our team compliments our skill and quality and enables us to exceed the expectations of many of our clients, including contractors, project managers, developers, home owners, and more.
If you require a full or partial demolition, turn to a demolition company you can count on such as Nielsen Environmental. To explore our demolition services in Los Angeles, CA in further detail, call us today.
To speak with one of our advisors about our demolition services Los Angeles CA has to offer, please call 323-951-9722.